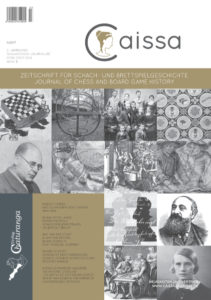 The following list gives you an overview of the topics of the third issue of Caissa. Furthermore we provide three extracts of articles here.
Dr. Robert Hübner: Das Glühwürmchen-Turnier 1868-1869
Prof. Bernd-Peter Lange: Hierarchiespiele: Schach spielende Frauen um Bertold Brecht (Extract – pdf 3,49 MB)
Dr. Arie van der Stoep / Wim van Mourik: Board games in post medieval Germany
Rainer Schmidt: Xiangqi ist kein chinesisches Schach, sondern Schach ist europäisches Xiangqi
Peter Anderberg: Drei Partien des jungen Ludwig Engels (Extract – pdf 1,94 MB)

Dr. Natascha Niemeyer-Wasserer: The historic chess set "The battle of Teutoburg forest" 1933 by Max Esser in the mirror of contemporary criticism
Prof. Ingo Althöfer: Gemeine Nachrichten in Spielpartien
Neuigkeiten aus der Forschung (Ausstellung "Schach und Poesie" Bad Aibling, London Chess Conference, Strategiespieltagung Cambridge, Treffen der Chess Collectors International und der Ken Whyld Association Altenburg – (Extract – pdf 1,43 MB)
Rezension: Friedrich-Karl Hebeker: "Vom Rhein nach Sao Paulo" (plus Interview mit dem Autor), Arno Nickel (Hrsg.): Schach-Kalender 2017, Martin Breutigam: Genies in Schwarzweiss – Die Schachweltmeister im Portrait, ChessBase Mega Database 2017
Order Caissa 1/2017 online in the Web-Shop of Chaturanga.