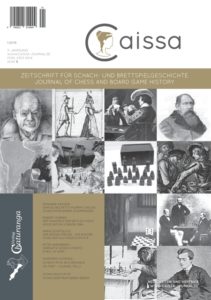 The first issue of 2018 presents a variety of topics from Ancient India to Samuel Beckett. In addition to the tournament chess in Germany and England in the 19th century, contributions are devoted to the game as a motif in literature and theater. As usual, reports on important events and book reviews are included.

Raymund Stolze: Ausstellung "75 Jahre Schachnovelle" in Neuenhagen
Rainer Buland: Ludologie, Ludistik, Ludographie: eine Systematik der Spielwissenschaft
Peter Anderberg: Harrwitz gegen Steinitz. Duell in Wien (Extract – pdf 1,83 MB)
Reinhard Krüger: Samuel Becketts Murphy und die schachspielenden Schimpansen
Robert Hübner: Der Kongress der British Chess Association London 1866
Maria Schetelich: Der Rösselsprung – ein bunter Hund der Kulturgeschichte
Herbert Bastian: Interview mit Dr. Maria Schetelich
Karen Aydin: Don't leave a blot – Board and card games, violations of boundaries and unruly behaviour in Arden of Faversham (1592), A woman killed with kindness (1603) and The two angry woman of Abington (1598) – Part II
Schachzentrum Baden-Baden: Schachstadt Baden-Baden: Von den Anfängen bis zur Weltmeisterschaft 1934
Siegfried Schönle: Schach im KL Buchenwald (15.7.1937-11.4.1945) – Teil 2
Bernd-Peter Lange: Rezension E. Strouhal: Agon und Ares
Mario Ziegler: Rezension S. Bocksberger: Das Kandidatenturnier 2014
Herbert Bastian: Rezension W. Pähtz: Damenschach in Ostdeutschland (Extract – 870 KB)
Order Caissa 1/2018 online in the Web-Shop of Chaturanga.