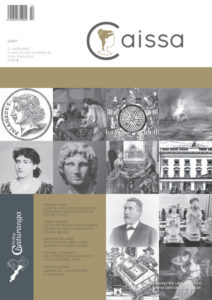 The second issue of 2017 presents a wide variety of topics about board games. Following the list of topics and two extracts:
Wolfgang Angerstein: Tagungsbericht vom 19. Treffen der deutschsprachigen Sektion von Chess Collectors Internation in Selb/Franzensbad (27.-30.07.2017)
Wolfgang Angerstein: In Memoriam Hans Holländer
Rainer Buland: Ludistik – Spielstrukturen unter besonderer Berücksichtigung der Brettspiele (Extract – pdf 8,3 MB)
Robert Hübner: Letzte Materialien vom Kongress der British Chess Association, London 1868/69
Michael Negele: Oskar Cordel – Chemiker, Schriftsteller, Gartenfreund und Lokalpolitiker
Henk Smout: Zum Nachwirken Oskar Cordels
Ingo Althöfer und Eiko Bleicher: Das 3-Züge-Gesetz von Oskar Cordel
Bastian Kissing: Latrunculi – Soldatenspiel im alten Rom
Bernd-Peter Lange: Ghosting Karl Marx. Hidden agendas of a Muzio Gambit
Antonella Ziewacz: Im Kampf gegen Engeland! Das Feindbild England in kriegshetzerischen Brettspielen der 40er Jahre
Kathrin Baltzer: Ausstellung "Schach in Asien" (Schachmuseum Ströbeck)
Siegfried Schönle: Schach im KL Buchenwald (15.7.1937-11.4.1945) – Teil 1
Karen Aydin: Don't leave a blot – Board and card games, violations of boundaries and unruly behaviour in Arden of Faversham (1592), A woman killed with kindness (1603) and The two angry woman of Abington (1598) – Part 1 (Extract – pdf 5,7 MB)
Herbert Bastian: Rezension E. R. Magacz/M. Negele: Paul Felix Schmidt – A winning formula
Order Caissa 2/2017 online in the Web-Shop of Chaturanga.