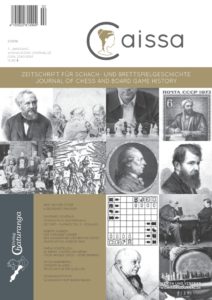 The second edition presents as always a variety of topics: From the Persian polymath Al Birunī (973-1048 CE) to early modern chess in England and France, nineteenth-century tournaments in Germany and Austria to events of the recent past. In addition, you will find as usual reports on important events and a book review.

Freie Kunst und strenges Spiel – die Schachspiele des Bildhauers Waldemar Otto
Rainer Buland: Nachrichten aus dem Institut für Spielforschung und Playing Arts
Arie van der Stoep: A desperate Philidor
Siegfried Schönle: Schach im KL Buchenwald (15.7.1937 – 11.4.1945) – Teil 3 – Schluss (Extract – pdf 2,60 MB)

Robert Hübner: Das Vorgabeturnier des Kongresses der British Chess Association London 1866
Maria Schetelich: Al Birunī's Notes on Indian Four-Handed Chess (Extract – pdf 2,15 MB)

Herbert Bastian: Das Spiessrutenproblem bei Chapais
Raymund Stolze: Kagans neuste Schachnachrichten – Internationales Schachmeisterturnier Dortmund 1928
Peter Anderberg: Steinitz in Wien – Neues aus alten Quellen
Schachkultur im Schachzentrum Baden-Baden: Die Schachfestivals in Baden-Baden bis zum Großmeisterturnier 1985 (Extract – 2,07 MB)

Raymund Stolze: Rezension zu "Wladimir Kramnik. Aus dem Leben eines Schachgenies" (Carsten Hensel)
Order Caissa 2/2018 online in the Web-Shop of Chaturanga.