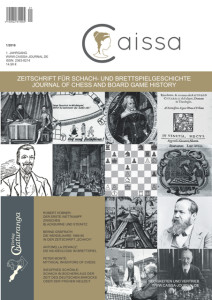 These previews and excerpts of the first issue of Caissa are available at the moment. More to follow, until the first edition is published.
Preface – first edition from Herbert Bastian, president Deutscher Schachbund (DSB) e. V. and Vice President of the World Chess Federation (FIDE). (German)
Iván Bottlik (Budapest): László Tóth: Schachspieler, Redakteur, Herausgeber und Persönlichkeit des öffentlichen Lebens
Tony Gillam (Nottingham): Getting Things Right
Prof. Dr. Bernd Gräfrath (Duisburg-Essen): Die Wendejahre 1989-90 in der Zeitschrift "Schach"
Dr. Adrian Harvey (London): Social participation in the game of chess: A recreation for everyone
Dr. Robert Hübner (Köln): Der erste Wettkampf zwischen Blackburne und Steinitz
Dr. Peter Monté (Voorburg): Mythical Inventors of Chess
Siegfried Schönle (Kassel): Schach in Büchern aus der Zeit des deutschen Barocks oder der Frühen Neuzeit. – Eine annotierte Bibliographie
Antonella Ziewacz (Saarbrücken): Die NS-Ideologie im Brettspiel
Order Caissa 1/2016 online in the Web-Shop of Chaturanga.